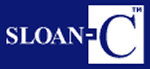 Presenters from University of Wisconsin-Milwaukee:
Matt Russell russelmr@uwm.edu
Dylan Barth djbarth@uwm.edu
Gerald Bergstrom bergtrom@uwm.edu
[ SLOAN-C Proceedings Web Site ]
Reflective writing is ideally suited for experiential learning.
Dylan's part focused on using reflective writing in a blended English composition course. His course is a blended course with 24 students. It is focused on research writing and consists of two seven-week modules. There is a final portfolio that has two revised essays: a ten-page research essay and a reflective letter.
The reflective essay was only at the end of the semester and consequently wasn't very good as it was the only reflective exercise assigned to the students. However, Dylan revised the journal a bit and made students do one journal entry in the middle of each module. They received prompts for all entries. Students were required to consider what they'd done, what they were doing, and what they were going to do. This was all done electronically using D2L's ePortfolio feature.
All told, there were 5 journal prompts, looking at all aspects of the research essay (the major project for the course) from start to finish.
Dylan's reflective pedagogy records what works and what doesn't, as well as what might change in future semesters. He uses his own reflective journal through the form of a blog to record his own insights. It is public, so students can see an insider's view of the course and get a better understanding of Dylan's decisions for the course (and post comments and feedback if Dylan so desires). In other words, it serves as a good model for the students (Dylan is practicing what he preaches).