TLT 2010 — Presentations Available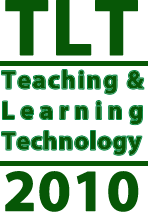 Presentations from this year's Teaching and Learning Technology conference are now available. We had a very good assortment of presentations (as usual). Our presenters did a fantastic job, as did everyone who participated in organizing the conference (thank yous all around).
We are already getting started with planning for next year's conference. From EdTech's perspective, we really enjoyed using the Civil Engineering building and we are grateful to Dr. Schonberg (Chair of Civil, Architectural, and Environmental Engineering) for letting us use his building. We also thought the conference overall went very smoothly. Technology worked with minimal problems (always a plus in our field). Our student workers did a great job helping the presenters and other visitors to our campus.
Anyone who wants to comment on this year's conference can do so as follows: