Blackboard 9.1 Training Opportunities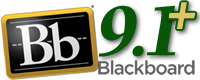 Educational Technology is offering several opportunities to learn more about Blackboard 9.1 in August (before Fall 2012).
To sign up for a training opportunity, visit the link below:
Each training opportunity will cover the following:
Basic functions of Blackboard 9.1 – A few functions have changed since Blackboard 9. This includes, but is not limited to:

Adding content (more features available)
Content management (single-sourcing now possible)
Syllabus tools
Learning Modules
And more…

Grade Center – Many of the Grade Center features remain unchanged from version 9, but many additional enhancements have been added.

"Needs Grading" to immediately see which assignments need attention.
"Quick" smart views for tests and assignments; additional smart views can be created for easy filtering.
Color code cells based on instructor-created criteria (e.g. grade thresholds).
Rubrics can be tied to assignments, blogs, wikis, and discussion forums for easy and consistent subjective grading. Rubrics can be made visible to students before or after they submit an assignment (or not at all).

Assessments – New test creation tools allow for much more flexibility in creating a test or quiz.

Create blocks and sets of questions, which can be randomly assigned to each student.
Pick questions out of a pool by a variety of criteria (or randomly assign questions from a pool).
Assign topics, levels of difficulty, and categories to question sets.
For more information, contact EdTech at edtech@mst.edu.