EdTech U Open for Business on TUESDAY, January 15, in IDE Room 105!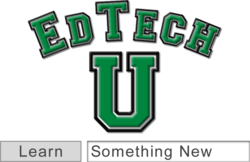 Educational Technology (EdTech) will be continuing "EdTech U" in Spring 2013. This is an opportunity for instructors to gain some hands-on assistance with any educational technology supported by EdTech.
Attending EdTech U will also enter you in a raffle, the winner of which will be drawn at the end of each semester.
In Fall 2012, Dr. Doug Ludlow, Professor of Chemical & Biochemical Engineering, won a new Kindle Fire. You could be the next winner! Every time you attend is one more chance to win!
Hours of Operation: Noon to 3 p.m. on Tuesdays starting on January 15
Location: 105 Interdisciplinary Engineering Building (computer lab)
Have you ever wanted to learn:
more about SMART Podiums and Boards in classrooms?
how to capture a live class lecture?
new ways of using clickers?
which tools are available in Blackboard and how to use them effectively?
how to make a video or screencast?
Do you always forget:
how to upload content in a Blackboard course?
how to submit your grades?
how to copy items from one Blackboard course to another?
how to quickly check to see if student clickers are working?
Come find the answers to these questions and much, much more! Stay for 15 minutes, or stay for an hour!
If you plan on coming to EdTech U, please bring some specific task you hope to accomplish. When you are done, you will take away a completed task (or we will at least have you well on your way to completing it!).
We will answer one question or a hundred questions! Come learn something new!
For more information, or if you have any questions you want to ask before attending EdTech U, contact Educational Technology at edtech@mst.edu.