REMINDER: iPad U and EdTech U on Thursday, October 3rd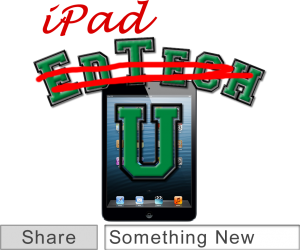 Educational Technology will be hosting iPad U and EdTech U on Thursday, October 3.
iPad U is a special session of EdTech U where EdTech staff and iPad users share ways to use the iPad to enhance teaching and learning. During iPad U, we encourage you to experiment with apps to discover their full potential. This month, Apple representative Josie Lollie will be available to answer questions and demonstrate new apps. iPad U takes place on the first Thursday of the month in IDE Room 104 from noon to 1 p.m. Bring your lunch!
EdTech U is where EdTech staff are available to answer questions about Blackboard, clickers/TurningPoint, and other technologies, as well as how to introduce the technology effectively to support learning in the classroom. EdTech U takes place every Thursday during the semester in IDE Room 105 (CLC) from noon to 2 p.m.