Don't Cancel Your Class: Tools For Teaching on Snowy Days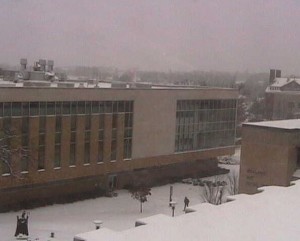 So, you woke up this morning and thought, "Oh no! It's Friday of dead week!  I can't cancel class…but look at all that snow!" Am I right? EdTech can help with tools that take little or no advance planning.
Tool to use TODAY:

Tegrity Lecture Capture: Have you noticed the "Tegrity Classes" button in every one of your Blackboard courses? The tool will only take a small download to use on your personal computer but it's already set up correctly in most classrooms. Tegrity allows you to record your desktop and a webcam image as well if you would like. If you're on your couch in your jammies, you can opt for a still shot instead.
Tools for the future:
If you need a little more robust tool for conversations with your students, Big Blue Button (available in January) and Adobe Connect (must be set up in advance by EdTech) are great for holding virtual classes or office hours.

Big Blue Button: This is a virtual classroom that will be available in Blackboard for the spring semester. Be watching for details and announcements to help you learn more about Big Blue Button.

Adobe Connect: If you plan to use a virtual classroom regularly, EdTech can create an Adobe Connect room that will be dedicated to you for your classroom and office hour use. This room must be set up in advance but once it is available, you can use it on the fly by providing a link to your students through Blackboard.