As the newest member of the EdTech team, I thought I would be able to help Mac users use the technology that they have at their disposal. I have 9 years of experience supporting Mac computers and have lots of tips and tricks that I've picked up over the years that I am willing to share.
Apple computers have been rising in popularity and Apple has been adding new features to their operating system to mimic some of the other major operating systems. I'd like to cover a couple of features that have been available in macOS for a while, but may not be known to those new to macOS. For more information about each of the features, click the Apple support page link.
Screenshots
Apple has a built in screenshot command that can take a screenshot of the entire screen or just a portion of it. To take a screenshot of the whole screen, press Command (⌘) – Shift – 3. To take a screenshot of part of your screen, press Command (⌘) – Shift – 4 and then select the portion of the screen you want to capture. (Apple support page)
Screen Recording
Apple also has a built in screen recording feature. To use this feature, you can open QuickTime Player and select the New Screen Recording option from the File menu. This allows you to capture all or part of your Mac screen. You can also record the screen of your iOS device by connecting the device to your computer with a Lightning cable and selecting the New Movie Recording option from the File menu. (Apple support page)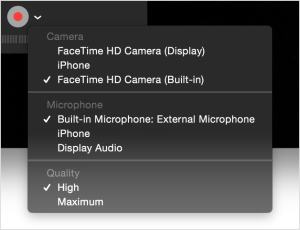 Split View
Apple added in a feature that is similar to one that Windows has had for a while, called Split View. This allows you select two different apps and have them fill your screen, without having to manually move and resize windows. To enter Split View, hold down the green, full-screen button in the upper-left corner of a window. The window will shrink and you can then drag it to the left or right side of the screen. Release the button, then click another window to begin using both windows side by side. (Apple support page)


I plan on writing up more of these in the future and would welcome any tips and tricks you might have picked up while using Macs. For more help, you can contact me at x4216 or at noswald @ mst.edu.