SLOAN-C: Lessons Learned from Developing and Evaluating Online or Hybrid Courses for Resident Instruction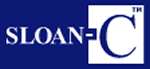 Presenters: Suzanne Weinstein with Karen Pollack (Penn State University)
Blended Initiative at Penn State was a Provost-funded initiative that targeted dual-use courses. Chose to focus on courses that were high-enrollment and considered general education and would be needed at all campus locations. They also focused on courses that had a high failure rate, math and science. Chose faculty based on exemplorary performance.
Project managed with 2 Instructional Designers and 2 Multimedia Technicians. Began with 7 courses and added 4 more courses in 2007/2008.
According to instructors: "Students may have difficulty managing assignments." "When developing a hybrid course, budget a lot of time for developing the course." "Students need to take more responsibility for themselves."
Students say: Taking this class in a hybrid environment allowed me to improve my time managment skills and prepare for class and particularly get assignments done on time.
Lessons Learned
Find the right champions – The willing vs. "you will"
Need for clear labeling – "and web" – It is important that students understand what type of course they are signing up for. It helps students be more successful as they can find the courses that fit the way they learn.
Need flexible classroom scheduling
Importance of technology support – It is also important to have Instructional Design by qualified instructional designer. The second challenge is to have faculty use the instructional designers effectively and commit to truly transforming their courses.
The paradox of the humanities and social sciences
Effective use of face-time – Know your audience – Moved lowerer level learning outside of class and used quizzes to validate the learning. Class time was spent actually analyzing and using what students were required to do outside of class to build and use higher level learning. Students were actively engaged and "covering" material in a smaller amount of face-to-face time (faculty experience).
Balancing structure with flexibility
Scalable content-sharing – the LMS can't serve as the content repository system. It is important to have a content repository that faculty can browse easily and find the resources that they need as they are creating their own courses.
Document expectations for sharing
Faculty were more interested in deriving new works.