SLOAN-C: Social Networking: Distraction or a Teacher's Best Weapon?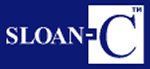 Presenters: Carolyn Kraut with Michael Edwards
How can social networking tools be used with students to enhance learning? The presentation can be found at http://sites.google.com/site/teachersbestweapon/. (The presenters are using prezi.com for the presentation and it is a really cool way of mixing up presentations.)
Do you ban social media in your school or classroom? For several attendees there is a fear on their campuses instead of a ban. Yet social networking is exploding right now. It can be surprising that currently only about 50% of tweets aren't useful. The average person spends about an hour a day on Facebook.
There are three main types of communication that is needed to build and sustain elearning communities: content, planning and social. It can be both asynchronous or real-time.
Students can feel isolated if all communication is only asynchronous. Social networking can build a bridge with students to help them build connections between faculty-student, student-student, and student-to-institution.
One activity is to have students begin following a professional in their field and summarizing for the class in order to utilize the social network to extend the boundaries.
Twtpoll.com is a way to do online polling in a course.
Twitter and Facebook is a great way to get task schedules or activities out to students. The ability to connect with students in a way that gives them information outside the LMS when they need it.
Screenr allows you to take a video of your course to show a process, do an introduction or give a tour of Blackboard. As soon as you are done capturing your screen you can send the link through Twitter or post in a discussion board. It is not Flash based so it can be viewed on a phone.
How do we keep personal and professional separate? Edmodo is one option for this. It is like Facebook but more closed because it doesn't worry about the friend thing. It is incredibly easy to make a group that students can be part of with out the worry of adds or "friend" bothering.