SLOAN-C: The Promise and Practice of Blended Learning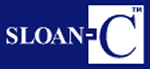 Presenter: Dr. Joel Hartman, University of Central Florida
Dr. Hartman was our opening keynote speaker for the recent Teaching and Learning Technology Conference at Missouri S&T. Now he is the plenary speaker for the SLOAN-C Blended Learning Conference & Workshop in Oak Brook, IL, just outside of Chicago.
Blended learning has been going on for centuries. Chalk technology is just one form of blended learning. Why do we think blended learning is different? The web is interactive, engaging, ubiquitous, asynchronous, rich in multimedia resources and constructivist. To this, we have added deeper institutional engagement, instructional design, faculty development, assessment, and communities of practice. The web is just one platform upon which blended learning activities are built.
How do we define blended learning? Blended learning courses combine online and classroom learning activities and resources in an optimal way to improve student learning outcomes and to address important institutional issues. In other words, blended learning is the space between fully face-to-face and fully online courses. There is a continuum between the extremes, within which blended learning fits.
It has the potential to impact any and every student, any and every instructor. It is both outward and inward facing. It also involves student-centered technologies which requires an institutional approach in order to apply the techniques effectively for maximum benefit to the students. Blended learning can also improve the efficiency of classroom space. However, it is sometimes not possible to recapture the classroom space for other classes. Final exam times may also conflict the classroom utilization.
One way of blending is to divide a large class into smaller groups so that only a small subset of students meet face to face at any one time. Online activities provide the additional resources to meet the needs of the larger group. This can also go in reverse where several small groups may be combined into one large blended course.
Blended courses may meet online and face-to-face for specific course content. They may meet F2F early in term, moving to online later in semester (or vice versa).
Blended programs need to address the fact the some courses (e.g. labs) are difficult to deliver fully online.
For faculty, there are many possible benefits: Blended is a first step into online learning. It is an opportunity for meaningful faculty development to dive deeper into pedagogy. Many students are somewhat ambivalent about technology in classroom because it is often not used well by instructors. Faculty can develop information literacy skills for themselves and for the students. Blended can offer "the best of both worlds" for faculty and students.
Blended and online provide an environment of pedagogical diversity and experimentation. It is a platform for integrating other technologies (e.g. Twitter, Facebook, YouTube, etc.). There are often more assessment options (though this does bring some significant challenges as well). Students have an environment for constructivist learning where they can build their own knowledge (with guidance). Blended impacts teaching practices both in and out of classroom.
New pedagogical approaches — from active faculty to active students; from transferring knowledge to creating knowledge; from learning as an individual activity to learning as a collaborative activity
Student expectations don't align well with traditional F2F teaching. Blended gives students a good match for the NetGen expectations with visual, exploratory, participatory activities. Students can succeed very well in these environments.
Students also appreciate convenience and flexibilty of online/blended learning. It can reduse time to degree and increase their information literacy.
Ten keys to success — Institutional strategy; systemic approach; faculty development; course design and development support; online student support; online academic services; robust and reliant infrastructure; effective organizational model; pro-active policy development; data collection and assessment.
Sloan-C pillars — Access; learning effectiveness; student satisfaction; faculty satisfaction; cost effectiveness
Access — Blended increases convenience and flexibility for students. It reduces the disruptions in students' lives. Blended learning reduces opportunity costs for student learning. At UCF, face-to-face enrollments are shrinking, while online/blended enrollments are growing rapidly. 19% of students are in online/blended courses.
How is student success measured? Grades divided into two groups — success (A, B, C) and not success (lower than C). At UCF, blended shows a slightly higher success rate than fully online.
According to Department of Education online is moderately more effective than traditional F2F. Blended is not necessarily more effective by itself, but the combination of tools that are employed has the most positive effect on students. In other words, what you do with the technology is more important than the technology itself.
Students really like blended learning. They like the improved interaction between students/instructors. They appreciate reduction in interruptions in their lives. They like the increased response times, better feedback.They feel performance is more fairly assessed and they like having more opportunities for collaboration. Anytime/anywhere communication with peers and instructors. More individual empowerment. Increased freedom to manage their own learning environments.
Students rate 48.9% of blended courses as "Excellent".
Faculty satisfaction is more of a campus/cultural issue instead of a blended/online learning issue. Faculty rate structure and time of blended learning as a net positive. They like the convenience of delivering a blended course. More F2F tends to give more satisfaction than blended, but even blended only yields 12% dissatisfied overall. The quality and amount of interaction seem to be the driving factors of faculty satisfaction with blended courses.
The keys to faculty satisfaction include operating within the faculty culture; recognition and reward for blended teaching; incentives and support; and don't put careers at risk.
Cost effectiveness — producing optimum results for expenditure (ROI). Blended learning will have a financial impact on an institution in both direct and indirect costs. "Making money" is NOT a good reason for engaging in blended learning — create the environment first; revenues will come with delivering a great product (just like it works in the real world). Successful implementation will make blended learning sustainable over the long term. UCF has a 16.6:1 ROI based on their own experiences in creating a blended learning environment over the past ten years.
There is declining state support (in all states). There are fewer funds for new construction, but there is increased student demand for teaching. Tuition and fees are also going up. Therefore, blended learning may be the only hope for many institutions.
To sum up — Access and cost-effectiveness are the easiest to accomplish. Faculty/student satisfaction and learning effectiveness are the more difficult pillars to achieve.