SLOAN CONSORTIUM Blended Learning Conference & Workshop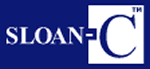 EdTech recently had the opportunity to attend the Sloan Consortium's (SLOAN-C) 7th Annual Blended Learning Conference & Workshop in Oak Brook, Illinois on April 19-20, 2010.
This was a great opportunity to meet other educators who are also engaged in providing blended learning opportunities to their respective campuses. Blended learning is a hybrid of face-to-face (F2F) and online learning, providing instances of both teaching modalities.
The Sloan Consortium is an "institutional and professional leadership organization dedicated to integrating online education into the mainstream of higher education, helping institutions and individual educators improve the quality, scale, and breadth of education."
Summaries and commentary on the different sessions attended by EdTech are provided in the blog entries below. Please feel free to comment on any entry that interests you. We are also willing to engage in further discussion on any of the topics below. Contact EdTech for more information.