Normal
0
false
false
false
EN-US
X-NONE
X-NONE
MicrosoftInternetExplorer4
/* Style Definitions */
table.MsoNormalTable
{mso-style-name:"Table Normal";
mso-tstyle-rowband-size:0;
mso-tstyle-colband-size:0;
mso-style-noshow:yes;
mso-style-priority:99;
mso-style-qformat:yes;
mso-style-parent:"";
mso-padding-alt:0in 5.4pt 0in 5.4pt;
mso-para-margin-top:0in;
mso-para-margin-right:0in;
mso-para-margin-bottom:10.0pt;
mso-para-margin-left:0in;
line-height:115%;
mso-pagination:widow-orphan;
font-size:11.0pt;
font-family:"Calibri","sans-serif";
mso-ascii-font-family:Calibri;
mso-ascii-theme-font:minor-latin;
mso-fareast-font-family:"Times New Roman";
mso-fareast-theme-font:minor-fareast;
mso-hansi-font-family:Calibri;
mso-hansi-theme-font:minor-latin;}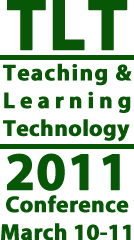 Registration for the Teaching and Learning Technology
Conference 2011 on March 10 and 11, 2011
is now OPEN!
Keynote Speaker: Dr. Eric Mazur —
Balkanski Professor of Physics and Applied Physics at Harvard University and
author of Peer
Instruction: A User's Manual.
Please send an email to edtech@mst.edu
(with subject line of: REGISTRATION – Teaching and Learning Technology 2011)
and include the following information:
NAME
(First and
Last)
EMAIL ADDRESS
(e.g.
joeminer@mst.edu)
# ATTENDING
(if you plan on bringing someone besides yourself, please let us know so we
have an accurate count)
ORGANIZATION
(e.g.
school, department, or institution)
SCHOOL TYPE

(if applicable–4 year, 2 year, K-12, Community College, Other)
PHONE NUMBER (area
code + number)
Details about our conference can be found on the conference
web site:
http://edtech.mst.edu/events/tltconference2011/index.html
We look forward to seeing you at our conference in March!